Peripheralpumps – GEKO Pumpen
Peripheral pumps Type GEKOBLOCK PM with magnetic drive 
The GEKOBLOCK-Peripheral pump with magnetic drive is seal-less side-channel pump. The pump is used whenever highly aggressive, toxic or dangerous fluids, without solids or crystalline particels need to be conveyed in an absolutely leak proof manner. The pumping fluid comes in tough only with PTFE, PFA, silicium carbide and ceramic. GEKOBLOCK-Peripheralpumpe mit Magnetantrieb ist eine einstufige Seitenkanalradpumpe. Mit dieser korrosionsbeständigen Pumpe können auch besonders aggressive oder gefährliche Flüssigkeiten ohne Abrasion oder Kristallisation leckagefrei gefördert werden.
Die Pumpe ist hermetisch abgedichtet. Das Fördermedium kommt lediglich mit PTFE, PFA, Siliziumkarbid (SiC) und Oxidkeramik in Verbindung. Das Produkt ist wegen der Unempfindlichkeit gegen Kavitation zur Förderung niedrig siedender Flüssigkeiten besonders geeignet.
Ein Gas-Anteil von bis zu 30 Prozent im Förderstrom stellt kein Problem für die Funktionsfähigkeit der Peripheralpumpe dar.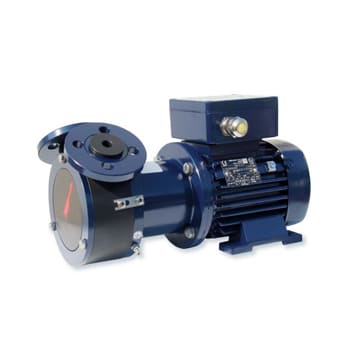 Design:
The GEKOBLOCK magnetic pump is a single stage, PTFE close coupled, glandless leak proof pump. The PTFE impeller is horizontally adjustable on the ceramic shaft, which runs in silicium carbide bearings located at each shaft end.
The power is transmitted via permanent magnets. The pump is hermetically sealed and absolutely leak proof.
Permanentmagnete sichern die Leistungsübertragung.
Further informations you will find in section Downloads.
Bei Fragen oder Anregungen, könne Sie gerne jederzeit Kontakt zu uns aufnehmen. Nutzen Sie bequem und einfach unser Kontaktformular.