Peripheralpumps – GEKO Pumpen
Peripheral pumps Type GEKOBLOCK PM with magnetic drive 
The GEKOBLOCK-Peripheral pump with magnetic drive is seal-less side-channel pump. The pump is used whenever highly aggressive, toxic or dangerous fluids, without solids or crystalline particels need to be conveyed in an absolutely leak proof manner. The pumping fluid comes in tough only with PTFE, PFA, silicium carbide and ceramic.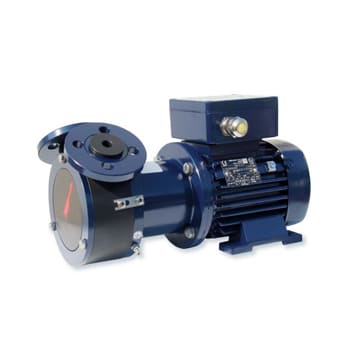 Design:
The GEKOBLOCK magnetic pump is a single stage, PTFE close coupled, glandless leak proof pump. The PTFE impeller is horizontally adjustable on the ceramic shaft, which runs in silicium carbide bearings located at each shaft end.
The power is transmitted via permanent magnets. The pump is hermetically sealed and absolutely leak proof.
Further informations you will find in section Downloads.