Close coupled pumps Type GEKOBLOCK BM with magnetic drive 
In case of the modular concept, both pumps with a bear-shaft and ones with a block-type design can be used, and they are moreover interchangeable. Additionally we have the possibility to deliver pumps which are equivalent to the old QVF-pumps.
Neben Normpumpen führen wir die Blockpumpe Typ GEKOBLOCK BM. Die Normpumpenbaureihe NM ist selbstverständlich auch in Blockausführung mit Magnetantrieb lieferbar.
Außerdem sind die Pumpen in Blockausführung auch als Kleinkreiselpumpe erhältlich.
Durch das modulare Pumpenkonzept können die Pumpen in Prozessbauweise außerdem als Blockpumpe BM eingesetzt werden.
Zusätzlich besteht die Möglichkeit, bau- und leistungsgleiche Pumpen zur ehemaligen QVF-Pumpenbaureihe auszuliefern.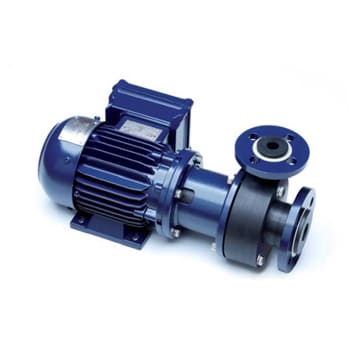 Wodurch zeichnen sich die Kreiselpumpen Typ GEKONORM NM mit Magnetantrieb aus?
Transporting highly aggressive, dangerous liquids safely and without leaks - the sealless and highly corrosion-resistant GEKONORM magnetic centrifugal pump makes it possible. This model is a PRFE / PFA-lined chemical centrifugal pump that meets the performance requirements of DIN EN 22858. The liquids conveyed come into contact with the materials PTFE, PFA, zirconium oxide and silicon carbide (SiC).
Information on the construction:
The single-stage, hermetically sealed centrifugal pump with magnetic drive, which is alternatively available in block design, has a closed impeller with PTFE blades, which are arranged on a shaft made of SiC. This shaft is supported twice by SiC plain bearings. The containment shell is made of carbon fiber composite material (CFRP), PTFE-lined or made of zirconium oxide. Optimally designed, precise thrust bearings compensate for the axial thrust. A pump shaft prevents suboptimal dry running.
Difference between standard and block pumps
In principle, standard and block pumps are equally powerful. Since the block pump works without a coupling in contrast to the standard pump, it is more compact and space-saving to install.
Do you have any questions about our block pumps or would you like to discuss a specific order with us? Then we look forward to your inquiry by phone, email or. We will advise you in detail and offer you the right pump for your specific area of ​​application.
Unsere Lösungen werden Sie überzeugen.
Further informations you will find in section Downloads.